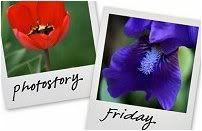 Hosted by Cecily and MamaGeek
With busy work weeks and always a million things to do so much gets pushed to the weekend that even those get busy. Kind of a bad circle since this is your time to get back on top and relax a little.
But sometimes there is a little corner of time here and there to get around to the wanna do stuff too. Like this weekend :-)
Other than getting some household stuff done what I wanted to do was to spend some time with Emma and go to the park and play around for a bit. But we also got around to playing in the studio for a bit.
Emma is good at making faces, posing and dancing around. All up to the point where she looses interest in photos and exclaims "that's it. No more photos of me...". But it works out and we have fun while playing in there.
Initial setup of the studio Emma helps setting up the flash (kicker). She is learning about the different lights and setting the output of the flash.
The patience isn't always too long so sometimes initial setup has to be done before she gets in the studio to play around. But then there are others that can help out adjusting the light. Good ole Angel bear :-)
When using studio lights one could start out by guessing a setting and adjusting the camera exposure based on the histogram. It's just not always this approach is fast or very accurate. That's why I got the
light meter
and Emma is now ready to get the exposure values.
Initial settings are kind of guess work based on what worked last time. But sometimes when the readings come out yieeeks... (uhhh dad... don't think this will work)
Alrighty... Enough playing around in the studio.
This time we went off to
Crockett park
where there is a nice lake. Turns out they got a playground there as well and Emma was excited as could be.
We were doing a little driving too :-)
And Emma could walk across the bridge all by her own... yeah that's pretty big :-)
The playground had two areas. One for the 2-5 years old and one for the 5+ years old. Of course both of them had slides but in the summer heat... yeah well you would get kind of toasted on those...
So after trying the slide once we went on to one of the favorite activities... Digging... I don't know why but it is always a winner.
If digging can be done with a stick and you even get to through a little sand around... pure bliss...
But as you can see on the following photo it was a hot summer day and we got overheated after a couple of hours. Well I did have a little sense and actually remembered to bring a juice box for Emma and a small water for me.
However I got one sip of the water and Emma emptied the juice box and the water in no time. The extra water we bought at the store was going fast so even though we had fun we had to pack up...
Ohh yeah I did mention something about a lake... right?
Well here it is (part of it).
And a few birdies were floating around on it too.
In our garden we got a couple of plant beds which seems to be overwhelmed with weeds. This year Emma and I tried planting some wildflowers but somehow the weeds came in faster than the wild flowers.
A couple of weeks ago I tried tearing out some of the weeds to get a little sun to what would hopefully turn out to be wild flowers.
Maybe that's what did it or they were just a little slow. But they finally started to show up.
The flowers may be few but they come up full of colors.
well some of them are full of color. But they are all different sizes and we sure do like them :-)
Just before dinner time and we got about half an hour to have a little fun in the studio. This time I got the kicker setup again with umbrella and all.
Mom had been doing Emma's hair so it amazingly still looks good even though it was done more than 2 minutes ago.
We always get this pose... It's called "look at my blue eyes"... I know I know... but it's all good fun.
Sometimes it's even possible to get Emma to have a face that doesn't include a weird expression. How do you like this one?
Of course we are not always equally impressed by the jumping and weird sounds dad is making behind the camera and we come up with a "hmm what's that all about" look.
Not to forget our "Look at my blue eyes" look :-)
So just for the fun of it let's finish off on the good side and have the curious look showing off a bit of very nice hair. Yep in ten years time (or sooner) I will be in sooo much trouble and have a lot of talking to get done. But for now it's about toys, puppies and fun stuff like that :-)
After being at the
airshow
Emma is still fascinated by the blue angels.
Here we are in-flight, landing, fly-by and wooshing up in the air real fast. Yep that sure is tons of fun :-)
Last but not least...
Recently (after a big storm that got a hold of the umbrella on the deck) Emma has been slightly a lot concerned about storms, rain, thunder, lightning and wind. So we spend quite some time taking about clouds, rain and all that stuff.
Yesterday after taking a bath some dark clouds were moving out with white puffy clouds peeking out behind them.
Now it will probably make more sense to you if you have seen or read the
Charlie and Lola
books or watched the
Charlie and Lola
show on tv.
One book we have read about a million times is the
I will Never Not Ever Eat a Tomato
which is a story about how Charlie is getting Lola to eat her food.
Anyway getting to my point. Emma looks out and exclaims: "Maybe tomorrow I will eat some cloud fluff. But only from the top of the cloud because I don't like the dark bottom".
In Charlie and Lola mashed potatoes isn't mashed potatoes but cloud fluff (Lola does not ever eat mashed potatoes).