First off...
As some know I have a thing about cameras and do have a few "oldies" around. You know the ones that take film (the stuff you take to the camera store to get developed before seeing your photos).
Anyway. Today with mom out shopping I was playing with Emma and we were looking at the different cameras and figuring out how they work. She actually figured out how the manual focus works...
Anyway. Back to the subject...
Since I started the Christmas vacation I have been feeding the wild life (squirrels) and they started getting used to having me around. So I have chased off cats and just you know hang around to observe them.
Finally today I got some good chances of getting some photos of them. So I was sneaking out there and gradually getting closer to the squirrel as it was eating.
As I was sitting on the concrete steps freezing my rear end off... yeah that was cold.
Ms. Cardinal stopped by... So of course now I couldn't move for sure...
After a short visit from Ms. Cardinal the squirrel came back and I got a few more :-)
If I say so myself it wasn't bad at all. Other than my hind end was a bit cold after wards... But hey... all worth it :-)
>>update><<
So just as I thought Friday was over photowise...
We were watching a movie and I was going out for a small break to get some "fresh" air...
Just as I opened the door three white tails jumped right in front of me... Yeah I jumped too. But since they didn't run away I got the camera and grabbed a few shot.
Yeah a little dark, shaky and the iso bumped wayyy up there. But hey it's evidence :-)
Once the movie was done and
Jacki
went off to take a bath I noticed the stars were very bright outside and figured I should try out my new lens with low light in a situation like that. So I got some white fuzzy spots too :-)
While you are here head on over to the photo story Friday and check out the other entries.
Hosted by
Cecily
and
MamaGeek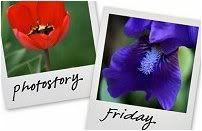 Hosted by Cecily and MamaGeek