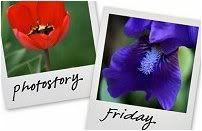 Hosted by Cecily and MamaGeek
We have had some "talks" lately... I know something between a father and daughter thing. For now it's things that are manageable and the current topic is weather. That is storms with heavy winds, thunder and lightning. All the stuff that makes the light go out and concern a 4 year old girl.
So to show how small storms and a little rain doesn't really do much we talk about it and as a dad I am trying to show Emma what it is and it at times can look cool when there is a small rain shower and the sun is peaking out.
One of these times is when Emma spotted the rainbow.... It all started out with some rain and thunder and Emma getting quite upset over it. So we walk to the windows and see how the sun starts peeking through the clouds and the trees dancing in the wind like the ponies dancing in the clouds (from one of our book readings).
So by this time Emma is ok with it and yeah dad that's pretty cool.
All of a sudden she runs to the other side of the house... Look dad look dad and she about pees her pants (well she did have a dress on by I guess it's an expression). So we end up going outside to get a real good look and the rain is going away while the rainbow sticks around for a bit.
First view is from the garage (yeah we actually use it for cars...)
Here is a view from the lawn.
I picked up Emma since the grass was wet and she didn't have much footwear on. We jump the bushes and get to the lawn. As I am holding her she has one of the best comments I have heard for a while.
With a concerned look Emma is saying: "But dad.... I don't see any ponies or care bears...".
Guess what we have been reading?
Have a great 4th of July.