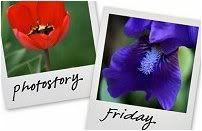 Hosted by Cecily and MamaGeek
Ok so it may not be a fresh off the press photo story Friday but I was just going through a few of the "old" photos yesterday and posting them on my
website
.
Here are a few of the ones I found was interesting in one way or another ;-)
The first one is from one of our walks up to the lower White oak canyon falls. This one I remember mostly because I spotted the red leaves on the tree and it was kind of "sticking out".
The funny part is how
Jacki's
response was why in the world I would take a photo of red leaves and a couple of months later a very similar photo shows up on the front page of one of the nature photo magazines. That keeps being funny ;-)
Next up is another one from the same location. The stream in the background is coming from the falls but at this place it's just a little stream with a couple of drops along the way. My attempt was to have an interesting background with some colors in the foreground.
And finally from a little pool of still standing water next to the white oak canyon falls is a single red leaf in the water. This is of course interpreted a wee little bit and I dropped all colors but the color in the leaf.
It has been a while since my last visit to the mountains and with house painting, cleaning, moving and all that good stuff it may be a while. In the mean time at least I got a few photos around from previous visits ;-)
Have a great Friday and wonderful weekend...